Le Printemps celebrates a 'Happy 150th anniversary'
Publish on Monday, 5 October 2015 in Fashion and Shopping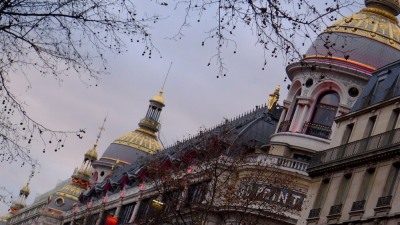 Specialising in fashions for men, women and children since 1865, Le Printemps is a chain of stores presenting high quality goods and services in major cities throughout France and abroad. The brand celebrates its sesquicentennial this year and has planned a whole host of celebratory events for customers.
A shopping appointment not to be missed
Looking for some great gifts for family and friends plus some special treats for yourself ? When you stay at the Cler Hotel the best of Parisian ready-to-wear can be found just a short stroll from your residence. Ladies can discover the latest collections as the top brands of womenswear offer ever more modern and chic creations that will satisfy even the most demanding fashionista. The Printemps store also offers lingerie items, accessories and everything you need to be radiantly beautiful on your wedding day. As for the gentlemen, the store boasts a very select choice of fashion items, including clothing, footwear and accessories exemplifying the latest trends. You can browse the most recognised luxury brands at the Printemps store, where you'll find all their latest collections of jewellery items, watches and leather goods.
Offering its customers a complete shopping experience in one place, Le Printemps also has a wide range of goods for the home, carefully chosen from the selections of leading designers and manufacturers recognised for their know-how and excellent quality.
A century and a half of satisfied customers ... that's worth celebrating!
On the occasion of its sesquicentennial, under the banner of 'Happy 150 years,' the Printemps chain has implemented a programme of celebrations rich in surprises entertainment, gifts and gourmet delicacies. The Printemps anniversary website, www.150.printemps.com is a temporary e-shop offering a wonderful selection of exclusive anniversary products available only for the duration of this special year. If you're staying in Paris with the kids, grab the opportunity to treat them to the delicious chocolates and other tempting delicacies offered by the pop-up store of the Maison du Chocolat, set up in the atrium for the occasion.
And that's not all! Printemps is also organising a 150 day World Tour, inviting the customer to explore enchanting landscapes beginning with a romantic sojourn amidst the canals and palaces of Venice. Then it's onwards to relax by the Red Sea, enjoy a stopover in India, explore the islands of Tahiti ... not forgetting the beautiful beaches of Brazil, the extraordinary plains of Africa and so much more.
A stage of the tour is organised every month and a team of travel experts is at your disposal to arrange your trips. The journey will be in accordance with your desires and budget, of course, but it's a golden opportunity to realise your travel dreams at special rates. Take advantage of it now!
******
Le Printemps - see more
PARIS HAUSSMANN - 64, bd Haussmann - Paris 9th district - tel : 0033 1 42 82 50 00
PARIS ITALIE 2 - Shopping mall, 30 avenue d'Italie, Paris 13th district - tel : 0033 1 40 78 17 17
PARIS LOUVRE - 99 rue de Rivoli, Paris 1st district - tel : 0033 1 76 77 41 00
PARIS NATION - 21-25 Cours de Vincennes, Paris 20th district - tel : 0033 1 43 71 12 41
~oOo~
Picture copyright holder: Sandrine Magrin by flickr.com
---
Le Cler Hotel, a classic and contemporary 3-star hotel in Paris, close to the Eiffel Tower
« Back to articles