On the trail of unusual bookshops in Paris
Publish on Tuesday, 10 October 2017 in Entertainment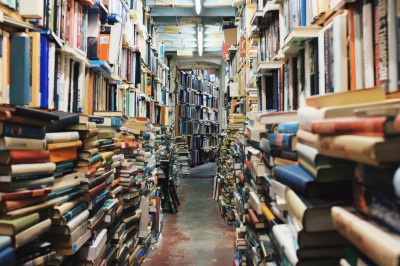 There are bookshops aplenty in Paris, but a few are particularly noteworthy in various ways. This may be because they have a certain cache or special atmosphere. Whatever the reason, these librairies will rekindle your desire to read, to dream, to surround yourself with books you can touch, smell, collect and treasure. The Cler Hotel invites you to set off on the trail of the most unusual bookstores and satisfy your passion for the written word.
Shakespeare & Company: the English language bookshop
A cult bookshop since 1951, Shakespeare & Company is known throughout the world as a temple of Anglo-Saxon literature in the heart of Paris, boasting a wide choice in this field. Delightfully quirky, overflowing and resolutely old-fashioned, it has walls lined with books from floor to ceiling. Upstairs you'll find beds where you can read quietly; a place of peace for writers in search of a retreat. As eccentric as its charismatic American former owner George Whitman, this place, which is often referred to as a literary hub, has appeared several times in films, notably in Woody Allen's Midnight in Paris and Richard Linklater's Before Sunset.
Address: 37 Rue de la Bûcherie, 75005 Paris
La Belle Hortense: for lovers of books and wine
This quirky hybrid bookshop in the heart of the Marais could be the offspring of a passionate liaison between books and wine. La Belle Hortense is a unique place, a bookshop cum wine cellar where you can get comfortable with a book while sipping a good wine and nibbling small dishes concocted by the neighbouring restaurants. La Belle Hortense combines culture and sharing; a heady blend indeed.
Address: 31 Rue Vieille du Temple, 75004 Paris
OFR: Trendy and avant-garde
The name is an acronym for Open Free and Ready, and the OFR bookshop can certainly be considered the artiest in Paris. OFR is a hub for specialist press enthusiasts and a haunt for trendy artists. You'll enjoy browsing the stock of this charming place and discovering some cool exhibition or other event taking place in the back of the shop. Over more than 20 years, OFR has organised some 300 exhibitions, a hundred concerts, plus weekly book signings.
Address: 20 Rue Du Petit Thouars, 75003 Paris
The Comptoir des Mots: Where the crime novel reigns!
The Comptoir des Mots is a bookshop that you might first notice due to the racks of postcards that stand by its door. Once inside, you'll discover the murals, retro furnishings and an old Parisian café bar serving as a counter. You'll be confronted by an astonishing array of titles and subjects as this is indeed a general bookshop. But what the Comptoir des Mots particularly favours is crime novels. You'll be unable to resist the urge to immerse yourself in a novel in a cosy corner, emerging only when the culprit has been revealed...
Address: 239 Rue des Pyrénées, Paris 75020
« Back to articles