Eiffel Tower Vertical and the Paris Marathon; world-class challenges
Publish on Sunday, 10 February 2019 in Events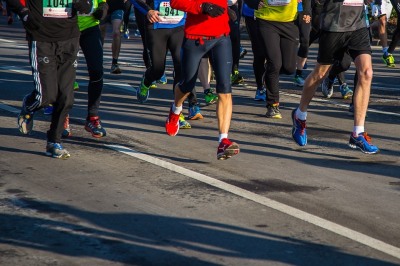 In the coming weeks, Paris will host 2 events that place stamina and endurance in the spotlight; the daunting Eiffel Tower Vertical and the famous Paris Marathon. The Iron Lady is a tough opponent and marathons are always a challenge, even in the world's loveliest city, but these sporting events are highly anticipated by all and bring together participants from around the world.
Eiffel Tower Vertical; a meteoric rise
The Eiffel Tower Vertical is a race against the clock to the top of the famous monument, some 324 metres above the streets of Paris.
It took a little over two years to build the Eiffel Tower, but this sporting challenge requires the competitors to climb the 1,665 steps in just minutes. An annual event for the last few years, the race will take place at night for the ascent of the floors usually closed to the public.
The sheer physical effort needed makes the challenge tough enough, but the stairway becomes increasingly narrow as you climb! The reward? An incredible panoramic view of all Paris exquisitely illuminated!
The Eiffel Tower Vertical will be held on March 13th. The current record holders are Poland's Piotr Lobodzinski, who won the men's race in just over 7 minutes, and the Australian Suzy Walsham, who made the women's ascent in just under 10 minutes.
Paris Marathon; the most difficult tour of the capital
Held every year since 1976, the unmissable Paris Marathon has witnessed many runners face up to the challenge of its legendary course. The event is rich in emotions and thrills!
The event takes place this year on April 14th. Along a course of a little over 42 km, the enthusiastic crowds give tremendous support to the brave competitors, adding to an exceptional sporting occasion.
As every year, the route will wind amidst the most beautiful monuments and streets of the French capital, such as the Concorde, Place de la Bastille, Avenue Foch and, of course, the legendary Avenue des Champs Élysées. A festive and friendly atmosphere reigns throughout the event, with musical entertainment and food stands. Who, if anyone, will dethrone the Kenyans this year and maybe set a record?
Stay at the Cler Hotel for the occasion
Sign up for the events and pack your running shoes in your suitcase! Be prepared to go beyond your limits. And book your room at the Cler Hotel for the occasion.
Located in the heart of Paris, just a short stroll from the Eiffel Tower and the Invalides, the Cler Hotel welcomes you in the comfort of its designer rooms. You will discover, amidst the chic and tasteful decor, a haven of peace to prepare you for, or relax you after, the races. The area is also ideal for walks and discovering the traditional and picturesque Paris.
Book on our official website and get the best price for your stay!
******
More information:
- Verticale Tour Eiffel
- Marathon de Paris
---
Cler Hotel, a 3-star hotel near the Eiffel Tower and Invalides
« Back to articles