Retromobile, Concept Cars at the Invalides and the E-Prix de Paris
Publish on Sunday, 5 January 2020 in Fairs and Trade Shows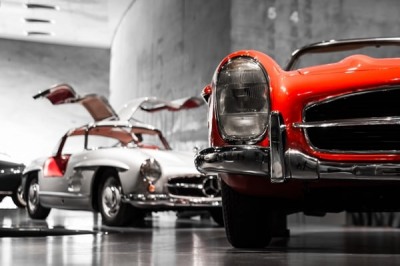 The start of 2020 promises to be extremely promising for all fans of beautiful cars. On the agenda are no fewer than three major automotive events scheduled to take place in Paris: the Rétromobile show, the Concept Cars exhibition that's often dubbed 'Automobile Fashion Week', and the famous Paris E-Prix race. Don't miss these events during your stay at the Hotel Cler. They promise to be epic!
Retromobile; a real treat for car enthusiasts
Each year, more than 130,000 people flock to the Porte de Versailles Exhibition Centre to attend Rétromobile, an international exhibition and trade show dedicated to classic and vintage cars and other vehicles. This year, from February 5th to 9th, 2020, more than six hundred exhibitors will be present as well as representatives of more than 120 clubs and associations. Whether you're looking for specific information on a particular model or marque or just want to quench your curiosity, you're sure to have a great time in pavilions 1, 2 and 3 of this state-of-the-art exhibition centre. More than 1,000 highly desirable vehicles will be on show to the public. At the booths you can meet representatives of clubs and federations as well as restorers specialising in vintage cars, car art galleries, auction houses and dealers in spare parts, scale models and automobilia. You can make the most of this large-scale event by staying at the Hotel Cler, located less than half an hour by public transport from the Porte de Versailles.
Concept Cars and the E-Prix de Paris; dazzling designs and racing action
If you happen to be visiting the capital between January 29th and February 2nd, 2020, don't miss the incredible Concept Cars exhibition presented at Les Invalides. The automobile is honoured in all its forms, from sumptuously restored vintage cars to amazing futuristic prototypes from the top international designers. The public can even vote to elect the most beautiful car of the year and perhaps win a high-end vehicle.
If you're passionate about motor racing, you won't need any further convincing to attend the E-Prix de Paris during your stay in the City of Light. The cars line up on the starting grid on April 18th, 2020. This highlight of the motorsports calendar has taken place every year since 2016 and involves 24 electrically powered single-seater racing cars competing on the streets of Paris over a clockwise circuit measuring a little less than two kilometres and featuring 14 turns.
After observing this breathtaking and adrenaline-pumping spectacle, why not cross the Seine to walk along the Champs-Elysées or take a leisurely stroll back to the Hotel Cler through the beautiful streets of the seventh arrondissement?
******
More information :
- Rétromobile show
- The Concept Cars
- E-Prix race
---
Cler Hotel, a 3-star hotel near the Eiffel Tower and Invalides
« Back to articles