The rooftops of Paris; take to the heights!
Publish on Tuesday, 11 July 2017 in Entertainment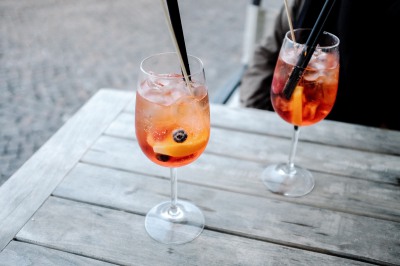 During the summer in Paris, nothing beats taking to the rooftops to enjoy a cocktail, eat and listen to good music while being enchanted by magnificent views of the capital. This concept of American origin has been thoroughly embraced by the City of Light, where there is now a tempting choice of rooftop terraces where you can gaze upon the Parisian skyline. With so much wonderful architecture, the city is a natural! The Cler Hotel offers its selection of locations where you can take your place in the sun or under the stars.
The trendiest
A trendy rendezvous at the Perchoir de Ménilmontant
Want to see the sun set on the Sacré-Coeur Basilica? Head for the 11th arrondissement and the Perchoir de Ménilmontant, a trendy bar where you can sip cocktails to a background of DJ sets while enjoying an amazing view of the rooftops of Paris.
14 Rue Crespin du Gast, 75011 Paris
Communion on the roof of the Cité de la Mode et du Design
Extend your summer nights under the stars at Communion, a rooftop bar overlooking the Seine. Do you like music with your street food?
36 Quai d'Austerlitz, 75013 Paris
The most beautiful 360° view at Délic-cieux
Déli-cieux, perched on the roof of the Printemps Haussmann department store, offers you a friendly setting for lunch as well as a pass to Parisian skies. From the 9th floor of this wonderful old Haussmann era building the largest monuments of Paris are easily identifiable.
64 Boulevard Haussmann, 75009 Paris
The coolest décor
A beach ambience at Mama Shelter
For a beach ambience, head to Mama Shelter, where the stunning combination of the view, the ambiance and the cool décor are well worth the trip. Just a stone's throw from Pere Lachaise Cemetery, Mama Shelter seduces with its colourful terrace, its benches and parasols, table tennis and barbecue.
109 Rue de Bagnolet, 75020 Paris
Peckish? Check out this address
Tapas and pizzas at the Perchoir Gare de l'Est
On the roof of the Gare de l'Est, the Perchoir de l'Est offers DJ music from 22:00 to 2:00, cocktails, beers and snacks (tapas, pizzas). It also boasts great views of the roofs of Paris on one side, while the other side looks upon the superb canopy of the Gare de l'Est.
10 Place du 11 Novembre 1918, 75010 Paris.
***
Le Cler Hôtel is a classic and charming 3-star hotel, close to theTour Eiffel
« Back to articles