Strolls in the markets of Paris
Publish on Monday, 10 September 2018 in Flavors and Gastronomy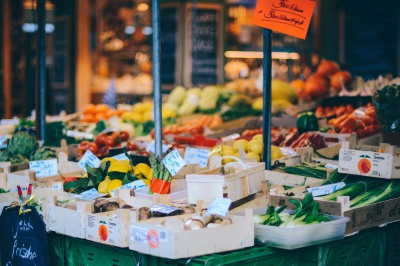 During a stay in Paris, you should seize the opportunity to visit typically Parisian markets. Teeming with authentic life like picturesque villages, the markets of Paris take you on a journey full of colours, flavours and enticing aromas. The capital is proud to have several of them, three of which we invite you to discover with your family or friends during your stay at the Cler Hotel...
The Marché d'Aligre; a village in the heart of Paris
Nestled between the Place de la Bastille and the Place de la Nation, the Aligre market, also known as the Beauvau market, is a 12th arrondissement landmark dedicated to an incredibly diverse selection of foodstuffs, with a flea market at its centre selling clothing, books, kitchenware and more. In the 18th century it was a gathering place for the most prestigious joiners and cabinetmakers, and today retains its sense of tradition as reflected in the lovely names of its aisles, including Main-d'Or, Cheval-Blanc, Bonne-Graine and Forge-Royale ... offering visitors a real journey back in time while they shop.
The Marché des Batignolles; the leading organic market...
Situated in the 17th arrondissement, the Marché des Batignolles is the essential market for lovers of organic food and local produce. Many merchants who source their stock from the farms and market gardens of the region gather here to offer foodstuffs of exceptional quality. Cheeses, early vegetables, fish, fruits, meats, wines, breads made with ancient grain flour, and freshly cut flowers come together to create an exquisitely colourful and fragrant symphony. In this market bursting with fresh and enticing products with a thousand virtues, everything is beautiful, healthy and good. You'll enjoy experiencing the authentic ambiance of the place and chatting with the vendors to get their recommendations and recipe tips.
The Marché des Enfants Rouges; one of the oldest markets in Paris
Located in the Haut-Marais, this 'hipster bobo' covered market called Marché des Enfants Rouges was created in the early 17th century and named after a former hospital-orphanage where the children were dressed in red to indicate their status as recipients of charity. Today, it is home to some twenty colourful and intriguing stalls offering fresh produce and exuding mouth-watering aromas. You'll be enchanted by its friendly and good-natured atmosphere while you wander past the Japanese snack bar, the Lebanese caterer and the Italian grocery store. Perhaps you're in the mood for a tasty sandwich at Alain-La-Crepe, a colourful and hugely popular stall. Want a full meal? L'Estaminet, the only real bistro in the market enclosure, welcomes you to its tables on the terrace.
Book your stay at the Cler Hotel now to discover the typical Parisian markets that add so much to the character of the capital!
« Back to articles