The Louvre Pyramid; 30 candles on the cake
Publish on Sunday, 10 March 2019 in Events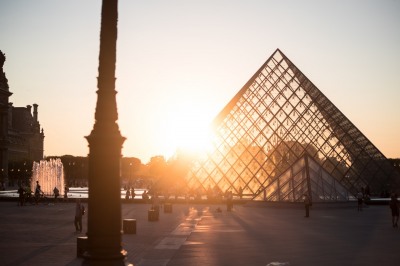 From March 29th, 2019, the Louvre Museum celebrates the 30th anniversary of its famous pyramid, a previously controversial work that has become iconic. Located in the centre of the Cour Napoleon, the Louvre Pyramid was designed to function as the main entrance to the Louvre Museum. Various events are planned to mark its landmark anniversary. Discover everything you need to know about this amazing monument and its anniversary event agenda below.
The Louvre Pyramid, symbol of the Mitterrand era
In 1981 the newly elected President of the Republic, François Mitterrand, launched his Grand Louvre project with the aim of converting the rest of the Palais Royal to function as part of the Louvre Museum. At this time the building's Richelieu Wing was occupied by the Ministry of Finance.
The President commissioned a new structure to facilitate public access to the Louvre. This project was entrusted to the Chinese-American architect Leoh Ming Pei, the designer of Hong Kong's Bank of China Tower and the EDF Tower in the Parisian business district of La Défense, among other works. He envisioned a bright and airy reception area in the form of a modernist-style pyramid with the exact proportions of the Great Pyramid of Giza. The 26-metre high building was made from 200 tons of glass and steel. It officially has 673 glass panes, but a tenacious urban myth claims there are 666 and the building is therefore the work of Satan ...
The project provoked fierce controversy among those who thought that such a modernist structure would detract from the French Renaissance architectural style of the Louvre or that it would alter the perspective of the courtyard. Ten years later, the building had become part of the Parisian heritage and was already on the way to being as well known as the Eiffel Tower, boasting nearly 9 million visitors each year.
30 years... let's celebrate!
Thirty years ago, the great pyramid of the Louvre was inaugurated by François Mitterrand. Such an anniversary should be celebrated in style. To mark the occasion as it should, the Parisian museum has big plans in place. A multitude of activities and entertainment has been scheduled from March 29th. You'll have the opportunity to discover the incredible epic of this structure since its beginnings via a photo exhibition, talks and seminars. Study days planned for the auditorium on March 29th and 30th will trace the development of the Grand Louvre project that played such a significant role during the Mitterrand era.
You will also have the opportunity to attend concerts, dance shows and many other family-friendly activities. The Louvre Museum has pulled out all the stops with an anniversary commemoration honouring this distinctive glass pyramid that has become a national and international celebrity as famous as the Eiffel Tower!
******
More information:
---
Cler Hotel, a 3-star hotel near the Eiffel Tower and Invalides
« Back to articles