The most beautiful museums in the immediate vicinity of your hotel
Publish on Tuesday, 5 November 2019 in Exhibitions and Museums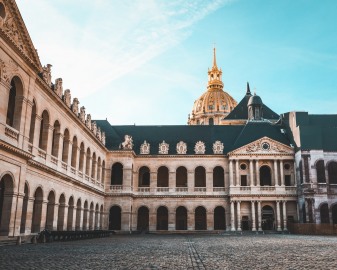 Although many of the capital's inhabitants claim to know Paris well, others say that an entire lifetime would not be enough to appreciate all the wonders of our Parisian heritage. If your stay at the Cler Hotel is just for a few days, you'll have no chance of seeing all of Paris. So, rather than go on a mad dash through the City of Light, why not focus on the museums near your hotel? You can discover them at your own leisurely pace. This is the key to a successful Parisian break.
An astonishing diversity of museums close to the Cler Hotel
The Cler Hotel welcomes you in a typical Parisian setting that is both refined and warm, just a stone's throw from the Eiffel Tower. Our establishment allows you to enjoy all the charms of the Left Bank and its numerous museums. Many of these are so close by that you don't even need to take the Metro.
This is certainly the case with the Quai Branly Museum, which specialises in non-western arts. Its spectacular exhibitions regularly create a sensation, but its permanent collections alone make a visit well worth your while. Its architecture designed by Jean Nouvel is an amazing sight, with the highlight surely being the sublime green wall designed by the botanist Patrick Blanc.
History buffs should head for La Contemporaine museum and archives centre and, especially, the Army Museum housed in the Hôtel des Invalides.
A little corner of paradise in the heart of the seventh arrondissement
Our hotel is situated in one of the loveliest streets of Paris, the Rue Cler, famed for its market, traditional shops, brasseries and all that adds to the charm of neighbourhood life. You will appreciate its authentic character and peaceful atmosphere.
If you're looking for a serene environment in which to chill, don't miss the Rodin Museum. Housed in the Hotel Biron, where the sculptor lived until his death in 1917, this beautiful museum houses extensive collections of the works of Rodin and his mistress Camille Claudel and is particularly popular for its French-style gardens in which it's a joy to wander.
Another haven of peace near the Cler Hotel is the Musée des Plans-Reliefs. This highly unusual museum is home to hundreds of three-dimensional models of French cities and fortifications formerly used for military purposes. The oldest date back to the seventeenth century and were made at the initiative of the Minister of War to Louis XIV, the Sun King himself. Less visited than the nearby tomb of the Emperor Napoleon, this small museum offers an opportunity to travel to the four corners of France without leaving the seventh arrondissement.
Want to discover even more museums? The Orsay Museum and the Maillol Museum also await you.
******
More information:
- Musée du Quai Branly
- Musée de l'Armée
- Musée Rodin
- Musée des Plans Relief
---
Cler Hotel, a 3-star hotel near the Eiffel Tower and Invalides
« Back to articles