The Night at the Invalides ... Once upon a time in Paris and France
Publish on Friday, 5 July 2019 in Exhibitions and Museums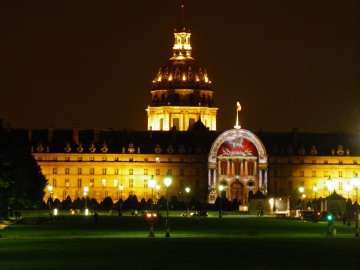 Every summer, the Court of Honour at the complex of buildings known as Les Invalides serves as a showcase for a magnificent sound and light show. The Night at the Invalides tells the history of Paris and France over several centuries. It's a spectacular, stunning and fascinating 360o immersive experience and THE show not to be missed.
From yesterday's Lutetia to today's Paris
For the seventh year in a row, the Cour d'Honneur (Court of Honour) of Les Invalides, birthplace of the History of France, promises an explosion of sound and light. From July 12th to August 30th, 2019, the fabulous night show entitled Lutetia; 3,000 Years of History will pay homage to the epic of the Invalides, proud stone sentinel guarding the history of France, and that of Paris and France from the time of the Gauls to the great men and military leaders of the modern era. The lavish periods marked by the reigns of Louis XIV and Napoleon are also prominently featured. This original creation by the screenwriter and director Bruno Seillier pays tribute to the women and men who made their mark on the history of our country and that of Paris.
An original sensory experience
After dark, you'll experience an incredible 50-minute journey through history made possible by cutting-edge audio-visual technology in the service of an immersive and gigantic show. As monumental as it is fascinating, the show provides 35 previously unseen sequences. A veritable technological feat, this enthralling presentation projects a 360° look at the dramatic epic sweep of French history using nearly 5,000 m2 of images on the 250 metres of the entirely renovated stone facades of the Invalides courtyard. Using 4k latest generation projectors, digital images of paintings from the Army Museum and a lot of fun animations in 3D, the show becomes more breathtaking minute by minute. The Night at the Invalides is narrated by the mesmerising voices of the famous French actors Jean Piat, André Dussolier and Céline Duhamel.
Meet the great figures of history
Once the show is over, the evening continues with a 'candlelit walk' in the Dome Church, the final resting place of Napoleon; fitting indeed as 2019 marks the 250th anniversary of the emperor's birth. It's the ideal opportunity to admire the impressive architecture of the Dôme des Invalides by atmospheric candlelight! This place so steeped in history was where the royal mass took place during the reign of Louis XIV, which became a temple of the god Mars during the Revolution, then housed the imperial tomb of Napoleon 1st and later provided a secret shelter for Allied pilots during the Second World War. During this candlelit walk you will see where Vauban, Napoleon II, the marshals Lyautey and Foch and other significant figures in the history of France are interred. A fabulous experience not to be missed!
******
More information:
Photo credit : © Wikimedia
---
Cler Hotel, a 3-star hotel near the Eiffel Tower and Invalides
« Back to articles