The Rodin Museum; a timeless place
Publish on Monday, 5 November 2018 in Exhibitions and Museums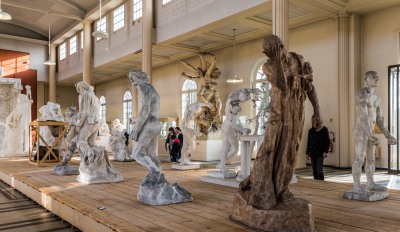 Close to the Cler Hotel is the superb Rodin Museum! A fascinating place both inside and out, it's yours to discover during your stay in Paris. From November 6th, 2018 to February 24th, 2019, the museum is presenting an extraordinary temporary exhibition revealing the drawing talents of the famous sculptor. The exhibition Cut-Outs presents an intimate look into the creative processes of the French artist who is generally considered one of the fathers of modern sculpture.
An artist's home where you can browse for hours
A stone's throw from the Eiffel Tower and the Invalides and not far from our hotel is the Hotel Biron, an 18th century mansion that now houses the Musée Rodin. Behind the building's sober facade is a magnificent collection of the completed marble and bronze works of the great sculptor, as well as several by Camille Claudel, his pupil, muse and lover who would go on to have a tormented destiny.
The museum's collections attest to Rodin's taste in drawings, paintings, engravings, antiques and photographs, and there are also some pieces from Rodin's personal collection, such as paintings by Monet, Renoir, Van Gogh and others. Everything in this guardian repository of the master's works and collections comes from the artist himself, up to and including the seats on which visitors can relax.
The museum also boasts a beautiful garden where other major creations by Rodin can be found. This French-style garden, a haven of peace in the heart of Paris, is an essential part of your visit! As you stroll along the paths you will come face to face with universally known pieces such as the Thinker, the Burghers of Calais and the Gates of Hell.
Cut-Outs; an exhibition not to be missed
You know Rodin the sculptor but what do you know about Rodin the artist draftsman? Yet his drawings are, as he liked to say, the key to his work, revealing a real passion for this artistic field. From the beginning of his career, the young Auguste Rodin made sketches and drawings that he kept and pasted into albums. The museum has preserved most of these works, amounting to nearly 7,500 sheets. The exhibition Cut-Outs presents some 250 drawings executed from live models, mostly water-coloured nudes that the artist would cut out so that he could manipulate these paper figures in space as a means of testing perspectives and creating compositions. These dynamic assemblies of bodies were not just a means to an end but can be considered works of art in their own right. Don't miss this unique exhibition from November 6th, 2018 to February 24th, 2019.
If you have been fascinated by your visit to the Musée Rodin, take advantage of your stay in Paris to visit the second Rodin museum located in Meudon, which houses works in plaster, sandstone, terra cotta and pâte de verre.
******
For more information :
- Musée Rodin
- "Dessiner, découper" Exhibition
---
Cler Hotel, a 3-star hotel near the Eiffel Tower and Invalides
« Back to articles