The top amusement parks in the Paris region
Publish on Wednesday, 5 February 2020 in Entertainment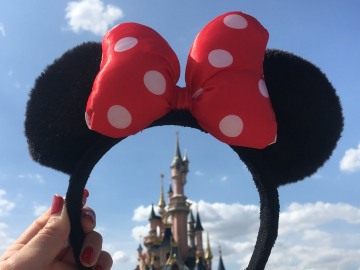 Paris is not just about art and culture! There's entertainment and just plain fun to be had, too, and where better to find it than in amusement parks? Here are four essential leisure complexes of the Paris region located less than 45 kilometres from your Cler Hôtel.
The king of amusement parks; Disneyland Paris
Some 2,230 hectares of an enchanted kingdom await you in Chessy, 40 kilometres east of Paris. Line A of the RER suburban rapid transit system takes you there directly. Children love this place and adults are amazed when they find themselves in front of the spooky Sleeping Beauty Castle, which you can step inside and explore. Then there's all the excitement of the Wild West in Frontierland, fun rides based on the 1,001 Nights and Indiana Jones in Adventureland, and much more. There's even a second theme park, Walt Disney Studios, which boasts numerous attractions based around the likes of Toy Story, Ratatouille, etc., and where you can also discover the history of animated movies from their origins to the present day.
Our country's second biggest theme park; Parc Astérix
Welcome to the world of the famous comic strip created by Albert Uderzo and René Goscinny! In Plailly, 40 kilometres north-east of Paris, you can immerse yourself in Roman Gaul, but also in the world of the Vikings and even ancient Greece. Parc Astérix boasts a whole host of rides and other attractions. Do you want white-knuckle thrills? You'll love the Tonnerre de Zeus roller coaster (33 metres high) and the Goudurix (which has an amazing seven inversions). There's also the famous Menhir Express, a spectacular log flume ride that ends in a thirteen-metre drop! After all that excitement, don't forget to take a selfie with Obélix in the village of the unconquerable Gauls!
Fun and nature at the Jardin d'Acclimatation
By taking the Transilien C suburban railway service from our Hotel Cler, you can be at the Jardin d'Acclimatation in about half an hour. This delightful amusement park is located in the 16th arrondissement of Paris, near the Bois de Boulogne. Here you'll find both classic rides (flying chairs, carousel) and thrill rides (rafting). There's also a farm with animals, fairground booths, a zip-line, narrow gauge railway, a paddling pool and lots more for a great family day out! Several eateries offer different kinds of catering. You can also register yourselves and your children for various workshops.
The oldest traditional funfair in France; the Foire du Trône
The Foire du Trône dates back more than a millennium, but is still vibrant, fresh and fun today. It's situated in the 12th arrondissement, half an hour from the Cler Hôtel via Metro line 8. Some 300 rides are spread over ten hectares of the Pelouse de Reuilly. From spring, around March-April, there's a rush to the thrill rides, but also to enjoy funfair fun fare such as candy floss and toffee apples! Don't miss this great family day out!
******
More information :
- Disneyland Paris
- Parc Astérix
- Jardin d'Acclimatation
- Foire du Trône
---
Cler Hotel, a 3-star hotel near the Eiffel Tower and Invalides
« Back to articles