Summer brunch in Paris; the best places to go
Publish on Sunday, 5 August 2018 in Flavors and Gastronomy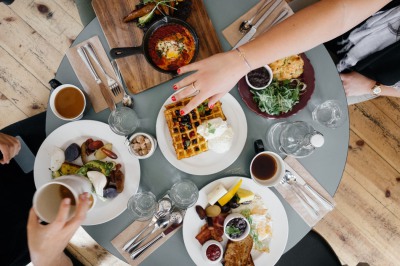 It's summer! The weather is lovely and warm, those tasty red fruits are finally in season and nothing beats a long brunch with friends under the Paris sun. But where to go for the best brunch? If you want to avoid the places that are a touch too touristy and experience the city like a local, we're going to take you into our confidence and tell you all about our top 3 of the best brunches to be found in Paris this summer.
The Palazzo for a delicious brunch outdoors
Located in front of the Palais de la Porte Dorée, the Palazzo offers a unique experience and a beach vibe right in the middle of the city. With its palm trees, deckchairs and faux grass, the atmosphere is clearly one of total relaxation. On the flavour side, foodies will be delighted with the scrambled egg tacos with guacamole. Following that, if you still have a little room and want to indulge your sweet tooth, you'll certainly want to try the chocolate banana tacos! The Palazzo also offers yoga classes, concerts, entertainment and dance evenings, so it's definitely well worth a visit!
The Mom'art for a chic and upscale brunch
Head in the direction of Montmartre and scale its heights with the Mom'art, a hotel with an absolutely charming inner courtyard where you can enjoy an exceptional brunch. The chef creates fresh flavours with savoir-faire and daring and puts together a new menu every weekend. The brunch is a healthy and sometimes vegan buffet capable of satisfying leonine appetites and picky palates alike. For example, you can enjoy grilled aubergines, fresh salmon or scallops. Book in advance to be sure of getting a table on the terrace.
The Passerelles for a brunch in verdant surroundings
Nestled in the 10th arrondissement, the Passerelles is a five-star hotel with a shaded terrace full of plants in its inner courtyard. Trendy and chic, the space is absolutely beautiful, and the way light spills into the courtyard is enchanting. On the brunch menu you can choose from a rich and varied buffet of fresh salads, artisanal cold cuts, delicious cheeses, homemade granola and a plentiful selection of fresh fruits and vegetables. Located just a short stroll from the Canal Saint-Martin, this discreet address is known among the cognoscenti as a place to savour a superb brunch in a charmingly picturesque setting.
The Cler Hotel welcomes you to the Left Bank of Paris
The Cler Hotel is a three-star establishment located in a quiet street of the 7th arrondissement, on the Parisian Left Bank. Its spacious and bright rooms are inviting and relaxing, while the decor blends the beautifully contemporary with classic Paris. Book your room at the Cler Hotel for an unforgettable stay.
« Back to articles