Unforgettable; a Halloween break in Paris
Publish on Saturday, 5 October 2019 in Events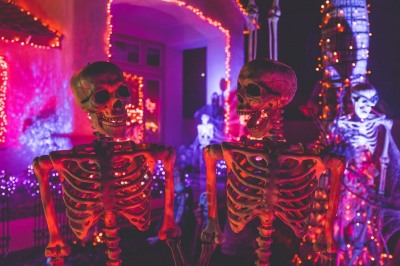 Halloween in Paris is not confined exclusively to the nefarious night of October 31st. Fear settles on the capital at the end of September and the most terrifying creatures await you until mid-November. Book your stay at the Cler Hotel to make sure you'll be close to the sites offering the best and most fiendish attractions. Hold on tight, because nothing can prepare you for what is lurking around the corner...
Halloween in Paris; fun-filled fear
Each year, the Parisian amusement parks vie with one another to create the most ingenious and effective Halloween ambiance in which to immerse their visitors. Spookily carved pumpkins are scattered about. Crooked-nosed witches straddle their brooms. Mummies come chillingly back to life. Ghosts emerge eerily from the darkness. And these are only a claw-full of the creatures that depart the nether realms to frighten we mortals.
Disneyland Paris gets into fright mode as early as September 28th, while the Mer des Sables and Parc Astérix reveal their dark sides from October 5th. All three parks retain their scary scenery until November 3rd, 2019, when it's time to send Parisians and tourists on new adventures.
Don't worry, though; it's all specially designed to give children a small dose of the goosebumps without frightening them too much. They'll have the opportunity to meet monstrous creatures, confront and defeat them. But, happily, behind these horrific masks there are some nice monsters.
A wide choice of workshops is also at your family's fingertips. Games, colouring, photobooths and other options are offered to families wishing to discover the Parisian Halloween in a way that is both fun and instructive.
Terror beyond imagining (and a whole lot of fun)
Perhaps you've heard of the Manoir de Paris? This walk-through haunted house show is open all year and always has plenty going on, but it's during Halloween that it truly comes into its spine-tingling own. From October 4th to November 17th, the most terrifying creatures invade the place. It takes courage to step inside because the 1,500 m² of horrible happenings and grisly goings-on within are not for the faint-hearted.
Visitors become the hapless heroes in a horror film exploring the twilight zone of the imagination. The immersive spectacle is filled with screams - yours, among others - and terrifying visions in a setting where reality no longer exists. The play of light, the sounds and smells, the creepy costumes and sudden shocks evoke terror beyond imagining (and a whole lot of fun). Will you be able to tell reality from illusion?
Please note that the Manoir de Paris experience is only for visitors over 12 years old and people who do not have heart problems or a nervous disposition.
One thing is certain; your stay at the Cler Hotel will be an opportunity to test your courage to its limits this Halloween in Paris.
******
More information:
- Disneyland Paris
- Parc Astérix
- Mer de Sable
- Manoir de Paris
---
Cler Hotel, a 3-star hotel near the Eiffel Tower and Invalides
« Back to articles