Valentine's Day; dinner for two and an amazing view of Paris from above
Publish on Thursday, 1 February 2018 in Flavors and Gastronomy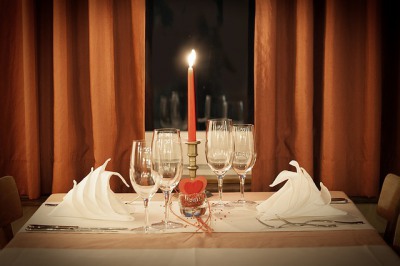 Soon it will be Valentine's Day. So how about celebrating the occasion by enjoying a romantic dinner with Paris at your feet? The Eiffel Tower and its two high-altitude restaurants, as well as the star caressing Montparnasse Tower, welcome you with delicious flavours and exceptional views of the City of Light.
A timeless trip to the restaurant Jules Verne
Nothing is more romantic than exchanging sweet nothings while comfortably ensconced in an exceptional place, a restaurant between heaven and earth commanding an incredible view of the lights of Paris! Just such a special experience is what you are offered at the restaurant Jules Verne, located at the top of the Eiffel Tower. The menu in this timeless place reflects perfectly our culinary heritage and the French terroir as the most irresistible classics of French cuisine are reinterpreted with a touch of modernity. You'll particularly enjoy this gourmet experience for two on February 14th, because on this day of lovers there will be an extra-special tasting menu created by the chef Pascal Féraud. An evening of romance away from every day cares awaits you; an experience in which gourmet pleasures will be accompanied by the perfect agreements offered by the cuvées of the grands domaines.
An unforgettable Valentine's Day at the 58 Tour Eiffel
For those who want a more down-to-earth experience, the first floor of the celebrated Iron Lady houses a gourmet palace where you can savour an intimate dinner with your loved one. The Cler Hotel recommends the restaurant 58 Tour Eiffel, where the modern design and the culinary creations of the chef Alain Soulard will enchant the blessed victims of Cupid. Everything here is a joy, from the tasting menu inspired by both modern and traditional French cuisine tinged with a pinch of originality, to the accompaniment of a suitable wine or sparkling Champagne. Adding to the pleasure of the place is the wonderful and unforgettable view of the City of Light sparkling in the night.
A romantic rendezvous ... beneath the sky of Paris
It may well be you'll have your head in the clouds on Valentine's Day. The Ciel de Paris (Sky of Paris) restaurant of the Montparnasse Tower, perched at 209 metres above the city's streets, offers a special menu to celebrate this delightful day of lovers. From such a towering height, as you can imagine, the view of the capital is exceptional, unique and magical ... But this is far from the restaurant's only asset, as the food is also the height of quality. Marbled half-cooked duck foie gras, scallops, crispy sweetbreads, mousse and raspberry confit are just some of the delicious delights that the chefs Christophe Marchais and Pascal Chanceau have to offer. And because an evening at the Ciel de Paris would not be complete without some bubbles of happiness, the restaurant will complement your romantic meal with a delicious Henriot Millésimé 2006 Champagne...
« Back to articles