Chic and popular; the Rue Cler in Paris
Publish on Thursday, 5 March 2020 in Visit Paris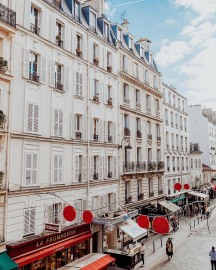 Nestled between the Champs de Mars and the Esplanade des Invalides, the Rue Cler offers a wonderful contrast to those elegant locations due to the pleasant and friendly vibe of its many shops and restaurants. Located in the very chic 7th arrondissement of the capital, it's an essential place to visit whether you want to do some shopping or simply soak up the atmosphere. And what could be more convenient than a Parisian break at the Cler Hotel for exploring the Rue Cler? Permit us to introduce you to this vibrant street…
The Rue Cler and its lively neighbourhood
The Rue Cler is a sort of 'market street' brimming with shops ranging from florists to caterers and pâtissiers. These places delight gourmets and lovers of colourful and interesting urban scenes with their well-stocked windows and pavement displays. This little street on the Left Bank is also full of typically Parisian cafes where you'll love to take it easy and watch the world go by. Balanced between tradition and trendiness, this cobbled and partly pedestrianised street boasts delightful architecture, lush greenery but above all a lively ambiance in the heart of a neighbourhood that has the feel of a village; the Gros Caillou.
Some essential places to visit on the Rue Cler
While exploring the Rue Cler, you'll find it's well-nigh impossible to walk the street's entire length without stopping off to check out a shop or two. Here are some that you owe it to yourself to visit:
- Jeusselin; this charcutier delicatessen has been on the Rue Cler for more than 80 years. It's one of the few charcutier delicatessens in Paris that still offer homemade foodstuffs produced according to the recipes of our grandparents. Immensely popular with the locals, this fine old establishment also offers delicious prepared dishes.
- Davoli; an Italian delicatessen whose popularity is clearly indicated by the queues reaching out the door, so get there early. Offering homemade specialties and a wide selection of meats, cheeses and even desserts, this much-loved local store is like a breath of Genoa in the heart of Paris.
- The Librairie Idéale is an amazing traditional bookshop with a vast selection and a friendly and knowledgeable staff willing to help you find your favourite reading matter.
- Mariage Frères. Once you've found your book, you'll want to head to this well-known tearoom set up in an old post office.
How to get to the Rue Cler
The 428-metre long Rue Cler is one of the most famous streets in Paris. It's also mentioned in the most renowned guides such as those of the famous and well-regarded American travel writer Rick Steves. To make the most of this delightful thoroughfare, why not stay at the warmly welcoming Cler Hotel with its charming decor, located at 24 bis Rue Cler? Book your accommodation with us today!
******
---
Cler Hotel, a 3-star hotel near the Eiffel Tower and Invalides
« Back to articles