Experience the real Paris on the Rue Cler
Publish on Wednesday, 5 December 2018 in Visit Paris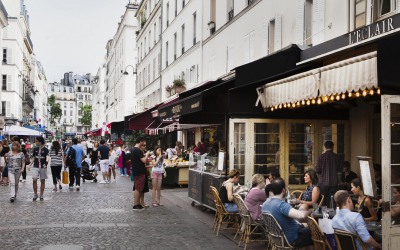 If you want to get to know the real Paris and stroll its pavements like a real Parisian, then head to the Rue Cler, in the elegant 7th arrondissement. Picturesque, lively, pleasant and so full of charm, the Rue Cler embodies the essence of Paris, its conviviality and its lifestyle.
Rue Cler; the gourmet street
Located near the Eiffel Tower, the largely pedestrianised and wholly vibrant Rue Cler is definitely worth a visit. One of the best market streets in the capital, it also boasts a terrific selection of speciality food shops, making browsing a joy. You will find a butcher, a fishmonger, a greengrocer and, of course, several bakeries, as well as plenty more tempting shops. Tucked away from the trends and fashions that go by in a season, these passionate artisans have been trading in the Rue Cler for decades. Embodying the spirit of the street, guarantors of the quality of the products sold there, these people are the heart of the neighbourhood. Stop by, sample their specialities and have a chat.
Cafes where you can watch the world go by
There is a great and typically Parisian tradition which is unfortunately not as prevalent as it once was; sitting at a table or counter in a cafe and chatting with your neighbour. The Rue Cler is home to several charming cafes where you can enjoy your espresso, breakfast or aperitif, and soak up the atmosphere of the neighbourhood. If you wish, why not start up a conversation, make new friends and put the world to rights over a coffee? Taste the conviviality of Paris in one of the cafés of the Rue Cler, in the 7th arrondissement. To make the most of the Rue Cler ambiance, especially in the morning, when the shops are all open, sit comfortably on a cafe terrace and watch the world go by.
Stay at the Cler Hotel and enjoy its authenticity
The charm of the Rue Cler is so endearing that you'll not want to stay anywhere else! The Cler Hotel also embodies the delicious art of living, with its chic and cosy comfort and an easy elegance that is so distinctly Parisian. The Cler Hotel, a 3-star establishment, will be your favourite Parisian retreat, whether you come to the capital for an urban getaway or a business trip. Located on the Left Bank, a few steps from the Eiffel Tower, the Cler Hotel is well-placed for easy travel throughout the capital via public transport or taxi. You'll be delighted by its spacious and pleasant rooms, each decorated in a contemporary and refined style. Don't delay; reserve a room at the Cler Hotel today.
******
For more information :
- Rue Cler
---
Cler Hotel, a 3-star hotel near the Eiffel Tower and Invalides
« Back to articles