For Valentine's Day; the most romantic places in Paris
Publish on Saturday, 5 January 2019 in Visit Paris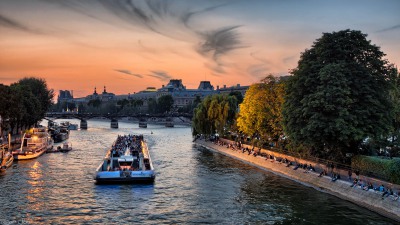 Widely regarded as the Capital of Love, the City of Light offers a wealth of activities for lovers, including picturesque walks for two, gourmet pleasures and much more. Make the most of Valentine's Day by following our recommendations for outings in the most romantic parts of Paris.
An evening cruise on the Seine; Paris from the water
An evening cruise on the Seine is a wonderful way to celebrate the festival of love as it will take you right into the historic heart of the City of Light to see its most beautiful monuments. Specially designed boats with dining tables placed close to large windows give you a golden opportunity to admire the greatest Parisian locations, sumptuously illuminated and passing before your eyes as you dine.
Walk hand in hand in Montmartre
What better setting for a romantic stroll could there be than the renowned and picturesque district of Montmartre? The Sacré-Cœur Basilica standing proudly atop the hill, the painters and portraitists setting up their easels in the Place du Tertre, houses dating from the 13th century embodying the history of the district… it all adds up to a setting conducive to romantic walks. Try climbing the steps to visit the Sacré-Cœur Basilica or ride the funicular railway. An incredible view of the whole of Paris awaits you at the top. Then continue along the Rue Saint-Vincent until you reach the Lapin Agile, a legendary cabaret and a hub of poetry and French song that was the gathering place of painters, singers and writers including Picasso, Van Gogh, Apollinaire and Verlaine...
Wander around the sculpture garden of the Rodin Museum
Cupid also invites you and your loved one to stroll in the magnificent gardens of the Rodin Museum. Within this three-hectare plot with its beautiful lawns, ponds and benches you will find the most famous works of the great sculptor Auguste Rodin on display, including The Burghers of Calais, The Thinker, Adam and Eve and The Gates of Hell. In this immense sculpture garden, which is divided between a splendid rose garden, a large parterre and, at the bottom, a terrace and an arbour, you are free to wander along different routes with various themes.
Restaurants of the Eiffel Tower; a romantic tryst with Paris at your feet
On the evening of February 14th, the 'Iron Lady' invites you to enjoy a tête-à-tête dinner at the 58 Tour Eiffel, a restaurant 58 metres above the ground, where you'll have an amazing view of the illuminated metallic structure and of Paris glittering in the starry night. The chef and his team will delight you with a carefully presented gourmet dinner served in a refined atmosphere. If you want your heart to soar even higher, you can declare your feelings at an altitude of 125 metres at the Jules Verne restaurant. A romantic dinner suspended between heaven and earth ... what better place to speak of love?
******
---
Cler Hotel, a 3-star hotel near the Eiffel Tower and Invalides
« Back to articles