Essential magic: the Palace of Versailles
Publish on Thursday, 10 May 2018 in Visit Paris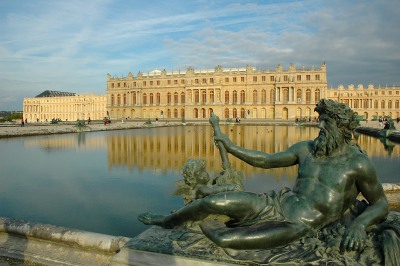 It is deservedly one of the most visited historical attractions in the world, so don't miss the opportunity to discover or deepen your knowledge of the Palace of Versailles. When you stay at the Cler Hotel in Paris you can escape the hustle and bustle of the capital to travel back in time with a stroll through the Gardens of Versailles or the Hall of Mirrors. The official residence of the kings of France awaits you for a superb day to delight the whole family.
Step back in time with the Palace of Versailles
Initially built as a hunting lodge, from the mid-17th century the Château de Versailles was developed and expanded to become the residence of the kings of France and the seat of the royal court. Steeped in history and perfectly preserved, the Palace of Versailles today invites visitors to imagine the opulent splendour of the era, with its sublime and decadent furniture and breathtaking spaces. The famous Hall of Mirrors impresses with its gorgeous gilding, divine marble and multiple mirror-clad arches. Equally fascinating are the Gardens of the Queen, designed by Marie-Antoinette and offering a unique atmosphere with a mix of architectures so representative of this fascinating woman's taste. Finally, the park of the Castle is known throughout the world and symbolises the French art of gardening with its geometric paths and precise patterns. A whole day will not be enough to appreciate all that the Palace of Versailles has to offer. You will fall in love - to return again and again!
The Musical Fountains Show, a stunning event in Versailles
In spring and summer, the park of the Palace of Versailles welcomes you for a breathtakingly beautiful spectacle, the Musical Fountains Show. Discover the many groves, ponds and fountains to the sound of music, and enjoy a different perspective on the masterpieces of the Royal Gardens. Period music invites the fountains to dance, and an enchanting interplay is established between the cascading water and the musical notes. For a wonderful evening, you can also attend the Night Fountains Show every Saturday from June 16th to September 15th. Experience unique and unforgettable moments! Please note that the event is free for children under 6 years old.
Cler Hotel, the quintessence of the Parisian Left Bank
Located in the elegant and traditional 7th arrondissement, close to the Champs de Mars, the Invalides and the Eiffel Tower, the Cler Hotel is a typically Parisian establishment, with vintage wooden floors, marble fireplaces and delicately crafted mouldings. Staying at the Cler Hotel, you'll discover Paris in an intimate way by exploring the Rue Cler. With its market and small cafes, this is without doubt one of the loveliest streets of the capital.
« Back to articles