The Grande Surface - Galerie Festive; a place you won't want to miss
Publish on Monday, 5 August 2019 in Visit Paris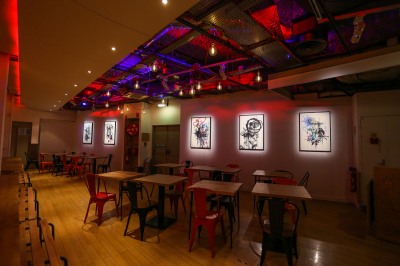 Did you like the Jardin Suspendu (Hanging Garden) installed at the Porte de Versailles Exhibition Centre in the 15th arrondissement? Then, you're sure to love the Grande Surface - Galerie Festive, the new hybrid venue not far from the Opera and designed by the Passage Enchanté team. Make the most of your stay at the Cler Hotel by stopping off at this unusual place on the Boulevard des Italiens. It's open until December.
Turning a supermarket into an art space
The Grande Surface - Galerie Festive is a curious and intriguing name for a new kind of art space; a fun and creative temporary venue where art and celebration come together in perfect harmony. Until the end of the year this remarkable place will offer an exhilarating mix of art works, entertainment, concerts, clubbing and more.
Why Grande Surface? Simply because this new art gallery occupies the former premises of an old Monoprix supermarket and has transformed its 1,500 m2 into a multifunctional space that can accommodate up to 900 visitors. The idea is the brainchild of Passage Enchanté, a group that repurposes spaces of more than 1000m2, and which is also responsible for the unusual Jardin Suspendu, a vertical rooftop garden now on its second season in the capital.
Art and celebration meet in a gigantic temporary installation
Spread over three levels, the works created for the venue change regularly, so it's well worth visiting more than once. The place has a totally uninhibited atmosphere in which you can view the art on display, drink, eat, listen to music, dance and have fun. A place of vibrant life in permanent artistic flux, the Grande Surface - Galerie Festive will provide a forum this year for the works of Théo Lopez, Jules Hidrot, Collectif Cela, Clément Laurentin, The Blind and many other artists that we'll leave it to you to discover. To offer the very best in urban art, Passage Enchanté has teamed up with the 9th Concept artist's collective.
You will also find several mobile bars, a food court and cuisine by Fabien Gomez. This leading chef has concocted for you an organic cuisine with mostly locally sourced ingredients that you can have the pleasure of savouring from 11:00 am for a small fee ranging from €8 to €12.
Of course, the party would not be complete without music and dancing. From 7:00 pm, you can enjoy music provided by Madcat Borussia and Jean Tonique, who are planning to keep you on the dancefloor until 2:00 am. Thanks to a cutting-edge musical programme and various other kinds of entertainment, this gallery has reinvented the art space with audacious originality, making it a vibrant, exciting and fun place to be.
During your stay in Paris, don't forget to visit this unique place that will only be open until December.
******
More information:
- La Grande Surface - Galerie Festive
Photo credit : © KYMNGUYEN 1912
---
Cler Hotel, a 3-star hotel near the Eiffel Tower and Invalides
« Back to articles